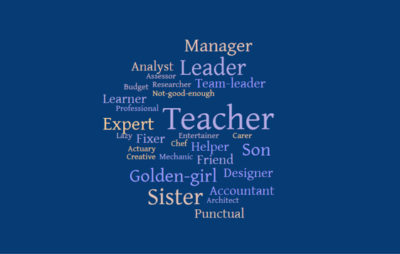 28th Jun 2017 | Leave a comment
Are Your 'Labels' Sabotaging Your Career Change?
by Dr Fiona Day
 Suzanne was working for an NHS (UK National Health Service) organisation which was being dissolved following a reorganisation. As a qualified physiotherapist she really struggled with the idea of being transferred away from the NHS and into an arms-length body, and she couldn't see a way forwards for herself. She identified very strongly with the label 'NHS staff' – this was, she felt, at the very core of her professional identify.
With no easy way for her to remain employed within the NHS, Suzanne was rapidly becoming stuck. The label 'NHS staff', which had given her so much drive and determination for the last 20 years, was now becoming a barrier to her ability to move forwards in the face of the reorganisation.
What can we learn from Suzanne's difficult experience? We all use labels about ourselves as a form of sense making in the world, these are like mental short cuts which may represent a much larger pattern of behaviours, roles, standards and values, as well as job titles.
Sometimes labels are really helpful, for example 'I want to drive more carefully now that I am a parent'; 'my partner is ill and I want to be a good partner and support them to get better'; 'as a professional teacher, I make sure that I attend my annual update training to keep my skills up'.
But what happens when labels start to limit us in our thinking and limit our choices? This is particularly true when we are considering a change in career direction, so it is important to be aware of how the labels we habitually use to make sense of our world and our working lives can help or hinder us.
Try these 5 steps
You might like to take a moment to ask yourself whether your labels are still serving you well, by following these steps:
Notice the labels you use about yourself – spend ten minutes writing down all the roles you identify with, and all the labels that you use, perhaps specifically focusing on those in a work related context.
Be kind to yourself –it might feel a bit overwhelming to see them all written down, so take a moment to acknowledge that you are doing your best with all these different roles and labels, and that it is normal to find it difficult to balance them all.
Go through each label one by one – asking yourself, 'does this label still serve me?'. If it is helpful to continue to hold on to that label, perhaps because it is really important to help you to move your career in the direction you want it to go, then do hold on to it and use it as part of your compass of what you want your life and career to stand for.
If you find that holding tightly onto that label is actually taking you away from what matters most to you, then be open to the suggestion that it may no longer be serving you well. It may be really scary to even begin to think of letting go of it even a little, so notice any thoughts or feelings of discomfort which arise at the thought of holding this label a little looser, and be willing to imagine that in the future this label may no longer be as important to you as it is at the moment.
Check in with these labels over the years, and make sure they are still bringing you closer to greater meaning, purpose and satisfaction in your working life.
Suzanne learned through coaching that the label she called 'NHS staff' was actually a mental short cut that she used to mean 'making a difference and helping people in need'. With this greater insight and flexibility, she was able to make the right decision for herself in her difficult situation, and is now flourishing in her new career.
Career Change, Developing Coaches - ACT Training, Getting Unstuck coaching
Tags: Career paralysis, cognitive fusion, Creative thinking, Decision making, Flexible thinking: using ACT in career change, Step 3: Generating options
Sign up to the blog
What we've been writing about
The Getting Unstuck process steps