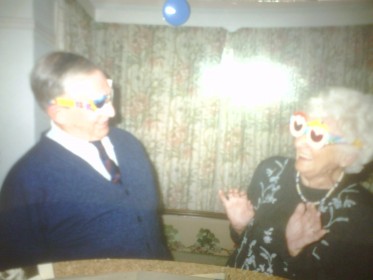 8th May 2012 | Leave a comment
Celebrating My Grandfather
My Grandfather has had numerous illnesses over the past 5 or so years, some of which I have written about and all of which he miraculously shook off.  But last week his kidneys and heart failed, and even he could not go on without those.
Even to the end he retained his stoicism or humour.  Last weekend I went to see him and he was wearing an oxygen mask.  It had not been fitted correctly and it was sitting awkwardly on his face, part of it jutting into his eye.  I thought he was asleep because his eye was closed, but actually, he was wide awake.  He was just sitting there, uncomplaining.  We moved the mask.  "Oh, that's better, thank you", he said.
Then the pharmacologist came in to try to find out his weight and height so as to give him the correct dose of medicine.  When she left he said "was she measuring me up for my coffin already?"  Cue general hilarity.
All the Doctors and nurses loved him.  In fact, pretty much everyone loved him – that can happen when you treat people with respect and are always up for a laugh.
Some of my most enduring memories will be about his love for dressing up in silly hats and making up silly songs whilst doing the washing up.  These things sound simple, yet if they were easy they would not be so precious.
Pa's stoicism and humour are the things I will most miss.  At the moment they feel irreplaceable.  It's easy to think these qualities will be forgotten now he's gone.
In the song Never Went to Church the brilliant Mike Skinner reflects on how his own Father had thrown away all his belongings before he died, so that it felt like there was nothing left to remind him of his Dad.  But then someone reminds him how similar his own mannerisms were to those of his Dad:
I guess then you did leave me something to remind me of you;
Everytime I interrupt someone like you used to,
When I do something like you you'll be on my mind all through,
'Cause I forgot – you left me behind to remind me of you.
That's what Pa gave me – the best bits of me, when I'm at my best.  And something to aspire to the rest of the time.
Career Change, Developing Coaches - ACT Training, Getting Unstuck coaching
Tags: Values
What we've been writing about
The Getting Unstuck process steps
Latest Tweets
Feeling stuck? We can help. Head over to our blog for lots of insightful tips and free resources to help you get un…

https://t.co/7z9txTUvLe

Head over to our blog for lots more content about getting unstuck, how to handle anxiety and of course our Marginal…

https://t.co/cKgkGB3oWq

The landscape of work has changed significantly during the pandemic so if working from home is now your 'new normal…

https://t.co/UPBu9t81FW