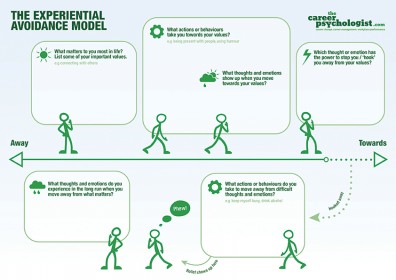 18th Apr 2015 | Leave a comment
Downloadable Experiential Avoidance PDF
This exercise is great for people who want to get unstuck from unhelpful patterns of behaviour.
Click on the link below to download the PDF.
Then work your way from top left answering the questions as you go.
By bringing your 'away moves' and 'towards moves' into greater awareness, you develop your ability to flexibly move towards what matters in life, as opposed to being dragged away time and again.
Download Experiential Avoidance Exercise PDF
Career Change, Career Development, Developing Coaches - ACT Training
Tags: ACT in coaching, Behaviour analysis in coaching, Decision making, Experiential avoidance, Flexible thinking: using ACT in career change, Psychology of career change
What we've been writing about
The Getting Unstuck process steps
Latest Tweets
Feeling stuck? We can help. Head over to our blog for lots of insightful tips and free resources to help you get un…

https://t.co/7z9txTUvLe

Head over to our blog for lots more content about getting unstuck, how to handle anxiety and of course our Marginal…

https://t.co/cKgkGB3oWq

The landscape of work has changed significantly during the pandemic so if working from home is now your 'new normal…

https://t.co/UPBu9t81FW