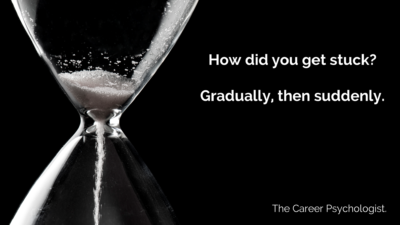 19th Aug 2019 | Leave a comment
How Did You Get Stuck? Gradually then Suddenly.
In Ernest Hemingway's The Sun Also Rises one character asks:
How did you go bankrupt?"
"Two ways, gradually then suddenly" comes the reply.
And in a nutshell that explains how so many of us get trapped in career paralysis.
No one plans to get stuck in a job they hate.  Most of us make a series of what seemed like rational, logical decisions to get where we did.  We did what was expected, followed the advice we were given, took the opportunities available and ended up stuck in a job that leaves us counting the minutes til 6pm.
How does this happen?  Gradually and then suddenly.
We make a decision to take a job because that's all there is available.  Some of us thought the job might sound good at dinner parties.  We take another similar job because it's better paid.  And then another because we hope to get away from that awful boss.  Then we stay in the job because moving would surely be too difficult now…
None of these decisions is a bad decision per se.  But taken together they reflect a 'safety first' bias whose short term costs are hard to detect but whose long term costs bring a creeping sense of meaninglessness.
If we can bring ourselves to face the pain we are experiencing – instead of numbing it as usual –  we usually discover that our decisions have nearly all been made in the service of one overriding goal: the avoidance of pain.
As Jim Loehr says in the Power of Story:
"We look out of the airplane window reviewing our belief system and realise that it's an anti-belief system, a rejection of our values…We don't see the consequences of one bad decision – I'll eat this, I won't go for a run tonight, I'll take this job and pay off my loans, this job will give me confidence.  But each decision makes it less likely we'll do the ideal, and the effect mounts".
How then can we get unstuck?  Well there is no instant fix, even though minds like the idea of instant fixes.
Getting unstuck happens in the same way as getting stuck does, through a series of small decisions and actions, but tentatively moving towards our values, rather than just avoiding pain and discomfort.
Gradually, then suddenly.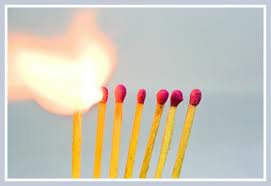 Career Change, Career Development, Developing Coaches - ACT Training, Executive Coaching, Getting Unstuck coaching
Tags: ACT in coaching, Career paralysis, Flexible thinking: using ACT in career change, Headstuck, Psychology of career change
What we've been writing about
The Getting Unstuck process steps