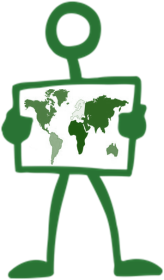 1st Apr 2012 | Leave a comment
The Age of Outrospection
In my research into meaning in work, I found out that meaning is created at a particular intersection of life, best captured by Aristotle:
Where your talents and the needs of the world cross, therein lies your vocation.
Your Talents
Meaning is generated firstly by introspection.  We need to become aware of our unique skills and strengths (and in particular to consider which of these we have developed to please others and which we develop because we choose to).  Self awareness has been the golden currency of careers advisors for many years, and rightly so. But it is not enough by itself…
The Needs of the World
Meaning (unlike happiness) cannot be developed in isloation.  It can only be developed by considering how our particular constellation of strengths fits the context in which we find ourselves. (This is why meaning has such a special relationships with contextual behavioural sciences, like ACT). Just as we can only understand the true meaning of a word by seeing it in a sentence, so we can only really understand our lives by seeing them in the context of the world around us.  So introspection is not enough. We need to think deeply about what the world needs from us, and how our unique talents can meet this need.
After finishing my research I met the fantastic Roman Krznaric at the School of Life.  His premise is that if the 20th century was the age of introspection, so the 21st century must become the age of outrospection.  Our fascination with our own happiness and fulfilment is doomed unless we pay attention to the world around us, and how we can contribute. Krznaric argues that at the heart of outrospection lies empathy, so I urge you to make a cup of tea and to listen to Roman identify the 6 habits of highly empathic people:
Tags: Compassion and careers, meaning in work, Positive psychology, Step 3: Generating options, Strengths, Values
What we've been writing about
The Getting Unstuck process steps
Latest Tweets
Are you transitioning back to work after being furloughed? Or returning to the workplace after working from home?…

https://t.co/mF1RnZ2bc3

This year it's possible that you may have slipped into bad habits which can have a detrimental affect on your menta…

https://t.co/kEwvs00bjo

Changing direction in your career is never black & white. Take a look at this article from Harvard Business Review…

https://t.co/jJuycjfA15