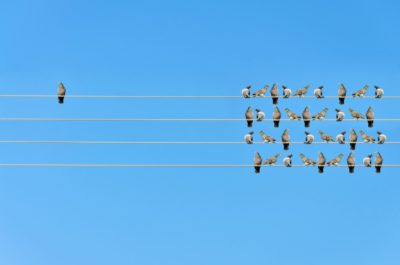 5th Sep 2010 | Leave a comment
Walking Away
Career change is ultimately about loss.
It's no surprise that the root meaning of  choice is 'to cut off'.  After all, by choosing we are cutting off the alternatives.
In the context of career change, this often means cutting off part of our old lives in order to start anew.  We can lose friends, money, our sense of self.  For me, all of the above.
Humans have to do this in many different areas of their lives, of course, and this poem, Walking Away by C Day-Lewis, describes this beautifully as he watches his son go into school.  I've always found it moving.
And I know in my own work with clients that a process of letting go is needed for us to move forward, but its necessity makes it no less painful.
If this is you, can you find the courage and compassion to let go of your past and embrace an uncertain future?  Can your love be found in the letting go?
Walking Away
This poem is dedicated to Day-Lewis's first son, Sean.
It is eighteen years, almost to the day – 
A sunny day with leaves just turning,
The touch-lines new ruled – since I watched you play
Your first game of football, then, like a satellite
Wrenched from its orbit, go drifting away
Behind a scatter of boys. I can see
You walking away from me towards the school
With the pathos of a half-fledged thing set free
Into a wilderness, the gait of one
Who finds no path where the path should be.
That hesitant figure, eddying away
Like a winged seed loosened from its parent stem,
Has something I can never quite grasp to convey
About nature's give and take – the small, the scorching 
Ordeals which fire one's irresolute clay.
I have had worse partings but none that so
Gnaws at my mind still.  Perhaps it is roughly
Saying what God alone could perfectly show –
How selfhood begins with a walking away,
And love is proved in the letting go.
Career Change, Career Development, Career Management, Developing Coaches - ACT Training, Getting Unstuck coaching
Tags: ACT in coaching, Dealing with difficult thoughts and emotions, Flexible thinking: using ACT in career change, Mindfulness in careers, Step 1: Understanding stuckness
What we've been writing about
The Getting Unstuck process steps
Latest Tweets
Feeling stuck? We can help. Head over to our blog for lots of insightful tips and free resources to help you get un…

https://t.co/7z9txTUvLe

Head over to our blog for lots more content about getting unstuck, how to handle anxiety and of course our Marginal…

https://t.co/cKgkGB3oWq

The landscape of work has changed significantly during the pandemic so if working from home is now your 'new normal…

https://t.co/UPBu9t81FW