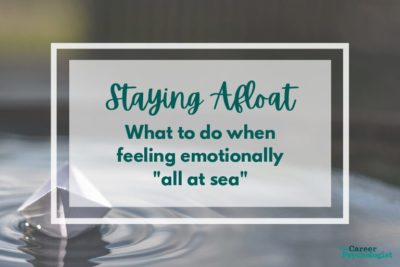 Executive Coaching, Getting Unstuck coaching
What to do when feeling emotionally "all at sea"
When we get overwhelmed with distressing emotions or unwanted thoughts it's a bit like being brought out to sea by a strong current into the middle of the ocean. If we don't know what to do we can feel tired, frightened, exhausted and alone. Our mind might be telling us there's no way back, our breathing can get faster and as we struggle to stay afloat by treading water or trying to swim against the current, it can feel exhausting and terrifying. Sometimes our mind might even tell us that drowning might be a good way to relieve our distress. One thing is for sure, the more we struggle the faster we will sink!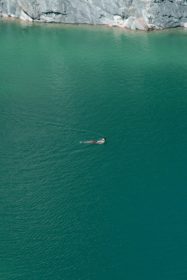 To a poor swimmer, doing "nothing" in such a situation would be counter-intuitive, in fact they just wouldn't think of it. But to an accomplished swimmer, lying flat on the water comes naturally and easily. This is how one person describes their experience of staying afloat:
"I swim out and just lie on my back in the ocean, allowing ripples to pass under me. When larger ripples or waves surprise me I accept this, knowing that the moment will pass and the uncomfortableness I feel will not last forever. Sometimes, after I float for a while I look up and can see I've been carried away by the current and I know what to do. I don't swim against it, instead I either let myself go with it until it brings me back to shore or I swim sideways instead, without tiring myself. While I lay back I can even notice the feeling of the sun on my face, the sound of the gulls, the smell of the sea, the sensation of buoyancy and the taste of salt on my lips as I allow myself to think about the things I am grateful for. Then, when I'm out of the current I will swim into shore and be with the people I care about. The worst that will happen is that I may be 100 metres further down the beach but I won't have tired myself out and I won't have drowned".
Sometimes, we can feel overwhelmed with distressing feelings, physical unease or unwanted, judgmental thoughts, particularly in quieter times or when feeling under stress. These thoughts are just like the ripples in the ocean; they never stop but they always move on past us. Some are small while others are larger waves, which hit us unexpectedly and can knock us off-kilter. Sometimes, life can even feel like we are caught up in an overwhelming current of emotion. This can occur in any life domain including work and careers, personal lives, relationships or individual general health and wellbeing. The good news is that ways to deal with life's waves and emotional currents can be learned and practised, so they don't have to overwhelm us. Indeed, just like we can learn to stay afloat in the ocean we can learn to stop struggling, lie back and wait for our unwanted thoughts and feelings to pass us by. For some people this might involve getting help from a psychologist, coach or therapist, for others it may be helpful to start with mindfulness exercises to help them to focus on our breathing and connecting with their five senses (what they can see, feel, smell, taste or hear), until they come safely back to shore.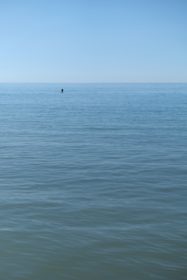 Mental health problems can arise for many of us in the workplace. The above metaphor was developed in collaboration with two clients who gave consent for this to be published to help others. Both individuals are highly successful business executives; one of whom suffered from work-related anxiety and panic attacks and another who suffered from chronic depression and at times could become submerged in suicidal thoughts. If you're struggling with your mental health in your career or working life, you may benefit from having a quick chat with a career psychologist. A good starting point may be to have a look at The Career Psychologist website (https://www.thecareerpsychologist.com/)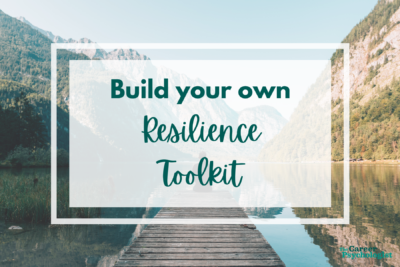 Career Change, Career Development, Interview coaching
The human brain can be great at ignoring or forgetting what we have done well, and focusing on our mistakes, errors or 'areas for development'.
By building our own Resilience toolkit we can help to balance this out – bringing more of your skills in to view.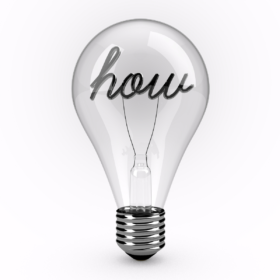 How does it work?
You begin by looking back through emails/texts/certificates etc and finding evidence of things you have done well.
This could be a simple email from a colleague thanking you for your time or a good appraisal or even a piece of work that you are particularly proud of.
You can either print these off and keep them in a physical resilience toolkit (why not start a folder or box?) OR if you prefer digital records, then go ahead and create a digital version.
Once you've gone back through your past, it's time to start working on the present and future.
Now, you need to start noticing when you get further positive feedback or thank you's and add these to your toolkit.  As well as this you should notice when you feel that you have done a good job and add this too.
Over time your folder or box will be overflowing with wonderful things…..all about YOU.
Now what?
Now – when you are feeling a little overwhelmed, worthless or like you aren't good enough….pull out that box.
Inside you will find concrete proof from yourself and others that you ARE good at what you do.  That you ARE enough and that you ARE resilient.
When life can become a little overwhelming, how many times have you been told to 'keep your chin up'? The challenge when our 'chin' needs help is that we tend to ruminate on more negative aspects of our life. One way to use this resilience toolkit is to take the time to read it when you are feeling this way. It should help to boost some of those good mood hormones to help you move forward with purpose.
It is also an incredibly useful tool for populating competency-based questions too!
Added Bonus – Tips for Completion:
I also find that a little mood boosting treat can be useful when building and reading through your toolkit.
Try adding one of the following foods to your toolkit to give your brain an extra boost;
Dark chocolate is rich in compounds that may increase feel-good chemicals in your brain.
Coffee provides numerous compounds, including caffeine and chlorogenic acid, that may boost your mood.
Since up to 90% of your body's serotonin is produced in your gut, a healthy gut may correspond to a good mood. Fermented foods like yogurt, kefir, kombucha, and kimchi, are rich in probiotics that support gut health.
Bananas are a great source of natural sugar, vitamin B6, and prebiotic fibre, which work together to keep your blood sugar levels and mood stable.