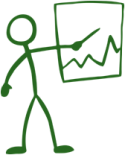 Why does expertise matter in coaching?
Expertise is knowing what has to be done
Do a google search for 'career coach' and you will see lots of people claiming to be experts in careers. So how are we different?
A story might help illustrate this point:
A company was struggling with productivity, so they called in a productivity expert to help.  The expert spent days reviewing the operation; from the workers to the machines and the processes behind them. Eventually, the expert identified what was wrong, reached for a spanner and tightened a single screw on one of the machines. Instantly the problem was fixed.

Productivity soared.

But the managers complained: "That was too easy! Anyone could have tightened that screw!"

But the expert said, "You aren't paying me for tightening the screw.  You are paying me for knowing that tightening that screw was what had to be done."
We know that the strategies we use to transform careers are often quite simple.
But it is knowing what has to be done – with each person in each context – which makes expertise so vital.