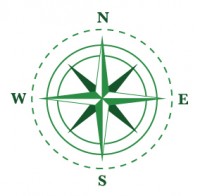 Why do values matter in coaching?
Values provide direction
There's a lot in life which is outside of our control. We all face difficulties, stresses and change which are imposed upon us, and it's easy to feel powerless when this happens.  This is where values are essential.
Firstly, they help people to connect to what really matters to them.  Values act like a compass, helping us to navigate forward, even when the waters get choppy.  Getting really clear on values is the first step to helping our clients get unstuck and moving forward with purpose.
Second by being explicit about our own values – what matters to us as people – we build trust with our clients much more quickly.  And trust is the essential foundation of any effective coaching relationship.
So, what matters to us?
We have two values which inform everything we do:
1. Expertise
We value expertise, science, evidence.  Our 'expertise' value covers everything from the training of our psychologists, the evidence-based interventions we use, to our commitment to measuring what we do in terms of outcomes and results.
And because we know our expertise can help transform your career, we will be confident enough to be demanding of you and challenging where necessary.
2. Humanity
Not everything in life is rational, logical and measurable. There is a part of human life which is more emotional, paradoxical, elusive. Human.
This is what organisations sometimes call the 'soft stuff'. But of course, the soft stuff is the hard stuff.  This is where people get stuck, lose focus and energy and performance drifts.
Our 'humanity' value is about treating clients as people. We are challenging, yes; but always from a caring and compassionate standpoint.
In a world which focuses on outcomes and results (and we do too), we never forget that life is a musical thing, and the idea is to sing and dance…
If our values resonate with you...