Hi all,
I'd like to introduce myself.  I'm Tas and I have been working with Rob since 2009 here at TCP.  I have been meaning to write a blog entry (or many) for about 4years now and so here goes… My first blog entry for 'headstuck'.   Given this is well overdue, I am making up for it in length:
I kept buying into the thought 'I have nothing of interest to say' until I came across the image below on facebook which was posted not by one person, but by multiple people in the past week.  As I read the words on the image below, I found myself experiencing all kinds of emotions, including shame, anger, frustration, blaming myself or others, feeling belittled and judged.  Yet actually, I do agree with some of his underlying points.  I realised, I actually have A LOT to say, and for some reason, this time I was able to unhook from the thought 'no one's going to find what I have to say interesting or useful'.  I therefore had a go at writing some responses to these 11 rules, with the aim of bringing in my own values, of contribution, connection, compassion.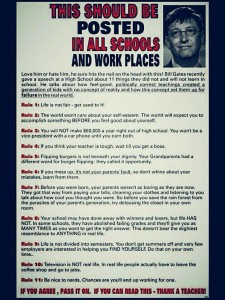 I work with people primarily aged 25-35 who may be going through a quarterlife crisis.  I wonder what kind of advice may have been helpful for my clients to have received during high school.
I did seek the help of my big sister, Amira Chilvers, who I bounced some ideas off.  I know in school, this would have been me cheating, however, in adulthood I am grateful I have such a wonderful older sister, who is so inspiring and willing to share ideas and thoughts.  It didn't stop there, I also asked Rob and Nim for their help in places, and I am grateful for two things:
1)      I have learnt it is OK to ask for help.
2)      That my sister, Nim and Rob (and others) are willing to provide support, help and encouragement when I have the courage to ask.
So, here goes:
It is important to note that Bill Gates did not write the above.  It was written in 1996 by Charles J. Sykes and he used these in a book he published in 2007.
Rule 1: Life is not fair — get used to it!
Tas' Response to Rule 1: Life is not fair.  The biggest challenge in my life so far, has been accepting life as it is.  Accepting what is right here, right now.  Understanding what is in my control, and what is not in my control.  Then, taking action where I can, to live a more meaningful and richer life.  This takes courage, determination and a whole lot of willingness.  The serenity prayer comes to mind here:
'God grant me the serenity to accept the things I cannot change; courage to change the things I can; and wisdom to know the difference'
Rule 2: The world won't care about your self-esteem. The world will expect you to accomplish something BEFORE you feel good about yourself.
Tas's response to Rule 2: Firstly, I have learnt that it is much more important for ME to care about myself and my own self-esteem.  However, that also the way in which children and adults learn to develop self-care and compassion is by the experience of being nurtured by others, and when we are young, this is usually our parents.  This nurturing, supports the development of a sense that 'I am ok, just as I am'. As one of my clients put it, 'who I am, isn't wrong'. To me this is esteem (thank you to my wonderful therapist Dennis Durby who has helped me understand this), the idea that every human being has worth, simply for existing, and being who they are.  We value a baby, a baby has inherent worth, is so precious simply for being born into this life.  So too, are adults.  We don't have to accomplish anything to have worth.
This is very different to self-confidence, a sense of 'I am good at x or y' or 'I can do x or y'. In order to develop confidence, we need practice, and the more we practice, and maybe accomplish, the more confident we get.  We had to attempt to stand up and walk maybe100′s of times, and fell on our arses so many times before we finally learnt how to walk.  Were you a confident driver the first time you sat behind the wheel of a car? The first time you cooked a meal? The first time you picked up and played a musical instrument? Are you willing to try things, despite not feeling confident? Are you willing to make mistakes in order to learn?
The downside is  we may never feel good about ourselves, even when we do accomplish.  However, is that a reason not to try? Not to keep going? For more on this I recommend Russ Harris' book 'The Confidence Gap'
Rule 3: You will NOT make $60,000 a year right out of high school. You won't be a vice-president with a car phone until you earn both.
Tas' response to Rule 3: I do agree with the above, nothing in life is for free, a lot of things take hard work and time.  You may or may not earn $60,000 a year straight out of school.  However, what is important to you about earning money? Is money the only thing important to you? What is worthwhile in your life? What are YOU going to do to get there? What steps are YOU going to take towards what is really important to you? Are you willing to work hard, do what it takes to get there?
Rule 4: If you think your teacher is tough, wait till you get a boss.
Tas' response to Rule 4: I realised, a long time ago, that I am my harshest critic.  What other people say to me is experienced as tough, largely because of how I react towards it.  As an adult, I can also choose to stay where I am (in a job I don't like, with a boss that I don't get on with) or I can do whatever it takes to get myself out of that situation, or at least better manage the situation I find myself in.
We will always come across tough people in our lives, tough bosses, tough colleagues, how do we want to respond? How can we take responsibility for our role in our interactions with others?  What is there to learn from these difficult situations?
My sister, who used to be a high school teacher said to me that the point that was being made here was that teachers are tough because they want students to be more committed, to work hard and put more into their school work.  This is a valid point, in that the more we put into ourselves, into our work, into life, the more we are likely to get out of it.
Rule 5: Flipping burgers is not beneath your dignity. Your Grandparents had a different word for burger flipping — they called it opportunity.
Tas' response to Rule 5: Google's definition of dignity is 'the state or quality of being worthy of honour or respect.'.  This relates back to the definition of 'esteem' and maybe even humility, respect for all human beings.  Some industries (even the corporate ones) don't always treat their employees with respect.  They may not value work life balance, employee well-being etc.  No matter what job you are doing, use this as an opportunity to live your values.  If you ask a cleaner who works for NASA what they do for a living, they respond 'I help send people to the moon' they see their work as having value, that is what is important.  Whether that value is because of the job itself, or because it earns money to put a roof over one's head, or provide for our families.  Knowing what it is YOU value is key!
Rule 6: If you mess up, it's not your parents' fault, so don't whine about your mistakes, learn from them.
Tas' response to Rule 6: Our circumstances do have an impact on our lives.  Often this is not our fault, and many things are outside of our control.  I feel that this links back to Rule 1.  Learning to accept what life has dealt us.  Learn from our experiences, and our mistakes, and take action towards a more meaningful, richer life.  Maybe it starts with working through (and with) the hard stuff, so we can let go, and start to move forwards.
Rule 7: Before you were born, your parents weren't as boring as they are now. They got that way from paying your bills, cleaning your clothes and listening to you talk about how cool you thought you are. So before you save the rain forest from the parasites of your parent's generation, try delousing the closet in your own room.
Tas' response to Rule 7: Firstly, our parents would have made the choices to do all of the above, it was their choice.  However, they are human too, imperfect.  It has been a difficult journey to accept that my parents are human, imperfect, yet somehow in accepting this, I am able to be more loving and compassionate towards them.  What values underlie your relationship with your parents or close family members? What one action can you take today, that is in line with those values?
I am reminded of this quote: 'yesterday I was clever, so I wanted to change the world, today I am wiser, so I am changing myself'
Rule 8: Your school may have done away with winners and losers, but life HAS NOT. In some schools they have abolished failing grades and they'll give you as MANY TIMES as you want to get the right answer. This doesn't bear the slightest resemblance to ANYTHING in real life.
Tas' response to Rule 8: It is very sad to me, that this is the reality for so many, especially in the Western world.  We live our lives based on comparisons with others, either being a winner, or a loser.  Comparisons take us away from humility and acceptance and towards feelings of unworthiness, hopelessness, helplessness, and also anxiety, fear, isolation.  Without comparing yourself to others, what are YOUR strengths? WHO do YOU want to be?
I am often worried about 'competition' and Rob Archer reminds me, to be my best self, to work on doing what I do exceptionally.  I am learning to compare myself with me, how can I do better than I did last time? What would be a personal achievement to me?  How can I develop on my strengths? This is a bit of a paradox, but the less I compare with others, and the more I allow me to be me, just the way I am, the more space I have to grow, to develop, to learn, to change.
These two quotes from Carl Rogers come to mind:
"The curious paradox is that when I accept myself just as I am, then I can change."  Carl R. Rogers
"People are just as wonderful as sunsets if you let them be. When I look at a sunset, I don't find myself saying, "Soften the orange a bit on the right hand corner." I don't try to control a sunset. I watch with awe as it unfolds."  Carl R. Rogers
This is the kind of future I want for my children, one where we support others to achieve something they never believed they might have been able to achieve:
http://www.godvine.com/Disabled-Boy-in-Last-Place-During-a-Race-Inspires-Everyone-1568.html
Rule 9: Life is not divided into semesters. You don't get summers off and very few employers are interested in helping you FIND YOURSELF. Do that on your own time.
Tas' response to Rule 9: Many young people work throughout their holidays.  Time off does decrease in adulthood, so my recommendation is, really enjoy and cherish all those moments you have.  Some young people have significant responsibilities already, for those who are fortunate enough to not have those responsibilities, make the most of your holidays. The reality is, we don't have much time or free time on this earth, watch this you tube clip which shows your life in jelly beans, and make the most of today!
http://www.youtube.com/watch?v=BOksW_NabEk
MAKE the time to find yourself.  Some organisations do value self development, and growth.  However, really make the time for yourself, make time to look after yourself, physically, emotionally, spiritually.  It is hard to balance all the things we have to do in life, so really prioritise what is important to you and start taking action!
Rule 10: Television is NOT real life. In real life people actually have to leave the coffee shop and go to jobs.
Tas' response to Rule 10: Same as Rule 9 plus….
I'm self employed and often work in coffee shops, so maybe one can live their life in a coffee shop and still work!  Jokes aside…  When you watch TV, allow yourself to fully engage in that activity, be present, when you eat, allow yourself to really engage with eating, be present, enjoy the flavours, the textures.
Rule 11: Be nice to nerds. Chances are you'll end up working for one.
Tas' response to Rule 11: This seems to suggest an ulterior motive to being nice.  Do we need to have a reason to be nice to people? What about being nice being an end in and of itself.  I ask you this question.  Who do you want to be? How do you want to be?  Tie your behaviours towards others to VALUES.
So that's it

if you managed to read all the way through – thank you

Role models come in many different types and they appear at different times in life.  With luck, we find people who can expand our horizons and illuminate the way forward.  But sometimes we are less lucky.
My first major role model was my Father.  One night, when I was about 3, he decided to walk out of the door and never return.  He abandoned me and my Mum in a glamorous bedsit in Birkenhead; a decision he would stick by for the rest of his life.  Every moment of every day that has passed since, he ratified his decision through silence.  There was no reason and no explanation.  I just knew that whatever it was, I was not enough to keep him.
I should be grateful, because his absence helped prepare me for life.  His guidance taught me a number of valuable  lessons which kept me safe in the long dark nights ahead.  He taught me to be wary of committing too much to a relationship for fear of it breaking down.  He taught me to spare myself the pain of rejection by keeping others at arm's length.  And his guidance  forged in me a cast iron strength to survive on my own.  As the great philosopher Aguilera once said, 'thanks for making me a fighter.'
In the eloquent silence that followed, every relationship I've had since has been framed by the sure knowledge that I am not enough.  I must say, it's been pretty tiring.  Lonely too, at times.
In 2010 I attended a conference in Reno, Nevada.  In town that week was a convention of 2000 cowboys – yes,  cowboys, there for a rodeo – plus 500 therapists and psychologists.  And me, a strange cross between the two.
I was there because I was learning a new kind of therapy, Acceptance and Commitment Therapy, which was getting remarkable results in organisations.  On the first day of that conference I attended a workshop in which I met a different kind of role model with a very different kind of message.
Kelly Wilson is a University Professor who 22 years earlier had lost a brother to suicide.  Astonishingly, Kelly stood in front of 100 people that day and said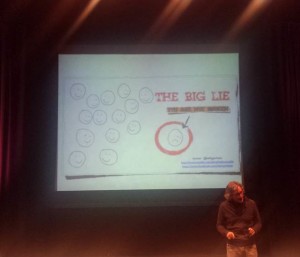 that he too felt inadequate, guilty and that he not done enough.  His words were shocking to me, but what I remember most was his presence.   He was willing to stand in front of these people, sort of defenceless, and shine light into the darkest areas of his life.  And in so doing, he illuminated mine.
What I was able to see that day was a different kind of response to painful feelings.  I saw how the cost of avoiding difficult emotions had been to slowly narrow my life.  By trying to spare myself the pain of rejection I had foregone the chance to connect.
The alternative – presence – isn't easy.  But since then I've been able to summon a different kind of role model when facing difficult feelings.
It is as if my first role model showed me how to run.  And the second showed me how to stay.
When I was in my 20s and early 30s I dedicated my life (outside of work) to the pursuit of what you might call happiness.  I was the life and soul of the party (transl: got very drunk indeed), went on fantastic holidays, bought nice things and generally lived a great life.
And slowly I grew depressed.
In 2003 I read a book called Authentic Happiness in which Martin Seligman explained how there were three different types of happiness.
The Pleasant life
Consisting of having as many positive emotions as frequently as possible.  
The Engaged life
Achieved by knowing your highest strengths and using these as often as possible.
The Meaningful life
Consisting of using your highest strengths in the service of something that you believe in.  
I intrinsically knew that this was true.  Overall life satisfaction is not just a function of pleasure, it is a function of engagement and meaning.
On holiday, even my famous koala impressions brought only superficial happiness.
But I think that 'happiness' is most often interpreted as the pleasant life – in other words maximising the number of positive thoughts and emotions one has in any given day.  Society certainly points us this way.  Dare I say it, so does Martin Seligman.  The trouble is this is a very poor strategy for pursuing meaning, and it was meaning that I lacked.  That's why, for me at least, happiness is a trap.
Meaning involves taking a stand, following your values and quite often, change.  But in turn these things bring anxiety, doubt and worry.  In contrast, happiness is an emotion that says nothing needs to change.  In my case, I had to relinquish the pursuit of the pleasant life (or happiness) to pursue meaning.  It was that stark.
There's nothing wrong with having a pleasant life, and I am sure some of Seligman's techniques can work to increase our 'happiness thermostats' from their set point.  But now I think, why bother?  I've realised you can't have the good without the bad  (see Ryan and Deci, 2001) and if you have happy thoughts as a goal you almost certainly compromise the pursuit of a meaningful life.
I think you have to be prepared to let go of happiness in order to find it. Plus, I think if you have happiness as a goal you stop fighting to change the world and become far more insular.  Over time, this is a poor predictor of happiness – however defined.
So, does it work?  Does letting go of happiness and pursuing meaning paradoxically bring happiness?  Well, the honest answer is no, not for me.  My levels of stress and anxiety have gone through the roof since pursuing meaning.  I am not happier, at least in the way I have been programmed to understand the term 'happiness'.
But my struggle for meaning has brought a certain amount of compassion towards myself, and this affords me more strength to be compassionate to others.  I am more grounded than I was before and far more purposeful.   And I do feel pride in what I'm trying to do, for the first time in my life.  All of this brings a form of happiness – but not as I would have defined it before.
As I write, shafts of sunlight escape the cloud and bathe the room with light.  For a few moments I am typing with sunshine on my back, before it disappears.  Happiness feels like that.  Temporary, welcome, but out of my control.
A classic mistake in career decision making make is to take a possible new career – let's say psychology – and then reject it because we don't like  the psychology-related job ads we read in the paper.
Because we generally know what we don't like, but are far less clear about what we do like, the new option is easily discounted because it ticks more negative boxes than positive.  As Dan Gilbert argues, we don't compare the past with future  possibility on equal terms.
This was the mistake made by yours truly about 6 years ago.  It cost me a year of inaction and further pointless deliberation.
However, if I had been willing to sit with my interest in psychology, imagine its possibilities, and not worry so much about my thoughts at the time (i.e. 'this is a waste of time!') then I could have set off on my path earlier.  That's time I'll never get back.
If you're in this position, can you notice the urge to get rid of options and to close down creative thought?  Could you be willing to go deeper into an option you're not sure about?   Play with it?  Cross it with something else (try my Creative Problem Solving booklet for ideas here).  Can you try inventing a story that includes the option?  Or imagine yourself at 80 having tried at it and succeeded?
As this fascinating study shows, thinking from these perspectives allows self understanding to develop at a more abstract level.
Your mind won't enjoy it – it will protest this is a waste of time and you should be analysing your options.  But if your mind really knew best then you wound't be looking to change career.
Obviously I hate looking / hearing myself present…but in the interests of a Bold Move here is a video of me presenting at a recent Escape the City event.
The subject is Career Paralysis – what it is, why it occurs and how to get out of it (basically a combination of decision science and ACT).
Hope you enjoy it and / or it's useful.
Seth Godin writes intriguingly about monitoring one's internal dialogue.  I think it's imperative to do the same when making important decisions, especially career decisions.  Why?
It comes down to a simple idea:  your mind is not your friend and it is not your enemy.  It is an evolved problem solving organ whose primary responsibility is to keep you alive.
It's like having a very loyal, very powerful dog outside your house.  Your dog will deter intruders, keep you safe, protect you.  But, if you let it, it may also deter friends.  Its instinct is to prevent you from leaving the house at all.  If you let it, it will make your life smaller in the service of safety.
But what language has given us is the unique ability to examine our own thoughts – metacognition.  By seeing thoughts as having a specific role, we can begin to see when they are useful to the kind of life we want to lead, and when they are not.
Perhaps some of the thoughts in your career decision are like the dog.  Well meaning but limited.  By being willing to examine our thoughts, we can become better at recognising why we're making decisions.
If your next career decision is about staying safe, well that's fine.  But if your life is about more than staying safe – living a vital or a meaningful life for example – you could do worse than read Seth's post.   And start bringing that dog to heel.
How about this, the lovely Colette Charpentier has translated some of the Career Paralysis presentation into French.
Merveilleux!

Take a look at this video.
Most people don't spot it, but even if you do it illustrates the limitations of our attention.  In short, we see what we expect to see.  For a career changer, this brings serious drawbacks.
For a start, we tend to believe the stories we build up about ourselves.  The mind is a consummate story teller, but it is not a faithful recounter of truth.  It's less Reuters than Tass.
So our attention bias tends to limit our own view of ourselves.  We become a 'type' of person with a certain degree of intelligence, a personality and a set of career matches….all staples, incidentally, of career coaching.
Yet these categories are just as likely to be limiting, inaccurate and even toxic as they are to be accurate, liberating and fulfilling.   Personality is a useful concept but it should be held lightly – and no more than an input to a career decision.  Ultimately humans can't be boxed into types.  It has to be about conscious choice and psychological flexibility.  (If you want more on this, have a read of this excellent post by Dr Nic Hooper.
Career matching tests, psychometric tests, personality, strengths; all have the capacity to reinforce categories which hinder more than they help.
The reason we get stuck is not because we see the world as it is, but we see the world as we are.  Change comes from holding who 'we' are more lightly.
I'll never forget the moment in 2006 when my friend remarked on how average we both were in comparison to another friend in terms of intelligence and capability.
It stung. A lot. I've always been rabidly competitive and wanted to prove myself in every way.
Since then I've met many people professionally and a lot of those have been what I call A-players. It hurts to admire these people and envy them at the same time. Am I an A player? It's now 2013 and I think I'm grown up enough to admit I might not be.
In ACT workability is more important than the truth. It means that even if I am not an A player, beating myself up about it or allowing it to affect me isn't going to do me any favours.
Tomorrow I can go into the office and work on the things that matter to me and work to develop myself in the way I want to. That's what counts.
And you know what? I'm looking forward to it.
by Darinder Bhangoo