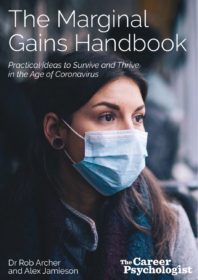 4th May 2020
The Marginal Gains Handbook – Practical ideas to survive and thrive in the age of Coronavirus
****NEW FOR MENTAL HEALTH AWARENESS WEEK****
We are delighted to release VERSION 3 of this free, practical guide of evidence-based ways to survive and thrive in the age of Coronavirus.
This time we have added a section on mental health, particularly with an eye to some of the challenges to mental health and wellbeing posed by lockdown.
This version includes improved ideas for thriving in the age of Coronavirus as well as a new section on parenting in lockdown.
This is from a CEO who's been using it with his organisation:
Your Covid Marginal Gains booklet has been a great source to help me during this once in a life time roller coaster. It deals with so many layers that we are all going through and gave me confidence in what I was telling my team, give me solace in what I was feeling, and hope for what despair we all go through.
There are sections on:
Dealing with anxiety
Isolation and loneliness
Problem solving
Working from home
Managing remote teams
Parenting in lockdown
The handbook is completely free and the resources that we link to are also
free, so we hope it is useful for everyone.
For more information or if you're interested in co-branding this resource for your company (it's no problem) please email Rob Archer.
If you're interested in donating something for the use of the handbook, please consider Age UK.
Tags: ACT in coaching, Behaviour change, Creative thinking, Decision making, Experiential avoidance, families, Marginal gains, meaning in work, Resources, Values, work
What we've been writing about
The Getting Unstuck process steps